(Password Required)


Though most of this site is open to the public and free to alumni, certain sections of this site require enrollment to access them. Only recognized alumni, former and current students, teachers and staff are eligible to enroll.

This is the LARGEST HS Alumni site ANYWHERE with over 8,400 listings!

This is also THE ONLY site owned and run by our one of our own alumni, some one you can trust!
I am working with Richard Andrews, the Official UMASD Alumni Liaison, 610-202-4988
See Richard Andrew's and Jack Miller's
pictures of the new construction!
BIOGRAPHIES !! We can now add biographies, including pictures to your information on the Public, Secure, Wall of Honor, and In Memoriam Lists. This also includes obituaries. Just send me a MS Word or PDF file (which can include a picture) at bc@uppermerion.net - Bruce K, Class of '71
Read the Track & Field Article Below.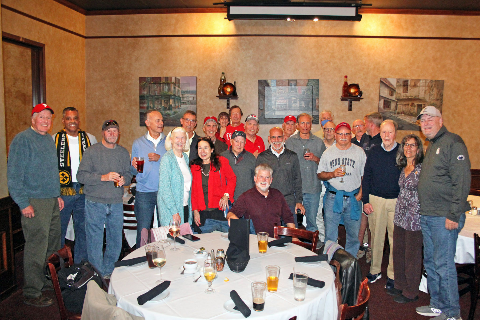 Left to right: Bruce Jackson, Vernon Sidberry, Tom Peashock, Bill Louv, Alice Jackson, Charlie Graham, Kate, and Craig, Nation, Nancy, and Mark Jackson, Pat Quinn, Steve Eastman, Dave DeLuca, Steve Wildeman, Kent Nation, Marty Riehl, Bob Langton, Michael Todor, Mike Gryzywacz, Dave Symonds, Rich Powers, Larry Curran, Gina Ironside,,Doug Kent, (missing from picture: John DiBonaventure, Dan Eastman, Carlton and Carolyn Taylor Hatcher)
The Latest News !
Frequently Asked Questions:
IMPORTANT INFORMATION
and answers to questions.
All known updates are in. If you moved or changed your e-mail address, we need the new information - Just re-enroll to update.

---
Select your graduation year. Once the new page loads, you can view the class information by selecting the Class Listing or Secure Listing links.
By Enrolling, you will receive an initial e-mail welcoming you. Once your information is manually put into the alumni database, you will receive an e-mail with the username and password.you will need to access the Secure List.
IF you are a "class contact," just e-mail me for a current and FREE Excel spreadsheet of your class. Because of members' privacy selections, this spreadsheet will contain even MORE information than displayed on this web site.
---
The information contained within is solely for dissemination among the members of this class. Any other use is strictly prohibited.
"uppermerion," "UpperMerion," and variations thereof have been in use since 1996 by Bruce Koehler and are his sole property, under both copyright and trademark restrictions.
Copyright 1996 - 2025 by Bruce Koehler.
Provided as a free service to the Upper Merion Area High School Alumni.